Nas quadras de Brasília, antes do jogo de hoje (27), muitas pessoas vendiam camisetas e artigos da seleção brasileira. Na hora do almoço, as ruas da capital estavam movimentadas. Os órgãos públicos federais e distritais tiveram expediente somente de manhã, bem como parte do comércio local. Muitos se apressavam para decidir onde acompanhariam o jogo entre brasileiros e sérvios, que decidiria quem passaria da primeira fase ou ficaria pelo caminho.

Foi o que ocorreu com a Alemanha, vencedora da Copa de 2014, no Brasil, que, nesta quarta-feira, perdeu da Coreia do Sul e foi eliminada.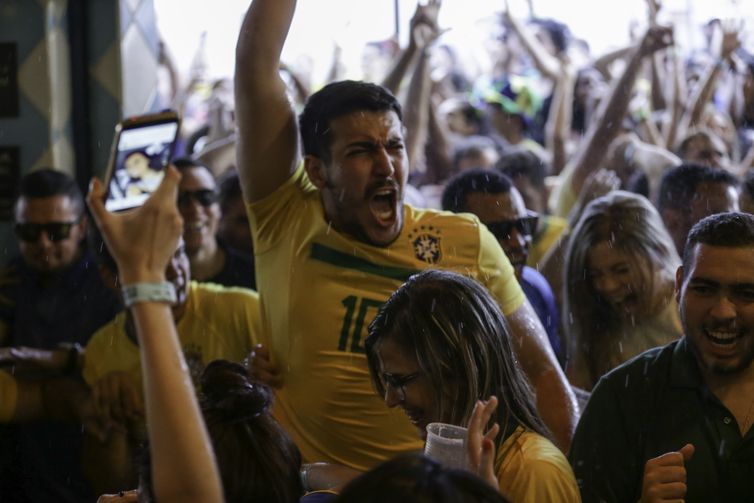 Na região central de Brasília, havia filas para a entrada em bares que instalaram telões e e ofereciam atrações musicais antes e depois do jogo. Em um tradicional bar da Quadra 201 Sul, próxima de diversos órgãos públicos, torcedores se espremiam para conseguir um bom ângulo enquanto o samba, gênero musical muito popular na cidade, era a trilha sonora.
Gabriela Vieira, profissional de marketing, foi pela primeira vez a um bar para assistir, com uma amiga, a uma partida da equipe comandada por Tite. "O primeiro jogo, cada uma viu cada em sua casa, mas, desta vez, decidimos vir para o bar. E foi a primeira vez que vi tanta gente. Em copas anteriores, foi mobilização maior, mais na rua", disse Gabriela.
O bancário Rodrigo Lima estava com a família em uma das mesas. Era a primeira vez que ele e a esposa, Fernanda Lima, aproveitavam a competição com o filho, Henrique. Eles também sentiram o crescimento da animação. "A mobilização, que começou mais discreta, agora está ficando mais forte. Acho que, vendo os outros times passando dificuldade, o brasileiro começou a perceber que todo mundo aprendeu a jogar e que o torneio é competitivo.".
O servidor Luigi Freitas, em um grupo grande de amigos, estampava um adesivo com os dizeres "Este país me obriga a beber". Luigi avtribuiu parte do desânimo da torcida no início da Copa à situação econômica do país. "Está bem menor a animação agora do que em copas anteriores. Até pela situação política e econômica do país, isso tem reflexo direto no ânimo [das pessoas com a] da Copa do Mundo.
Em outro bar próximo, ainda havia fila do lado de fora quando a partida começou. A certificadora Camila Ximenez, que usava um adesivo com a frase "Respeita as mina", disse que os episódios de assédio a mulheres, embora tristes, tinham um lado importante. "A gente já vive isso cotidianamente. Acontece esta reação na Copa do Mundo, é bom porque dá uma visibilidade mundial ao abuso que a gente sofre todo dia", afirmou.
Neymar
As jogadas de Neymar foram acompanhadas com interesse pelo púiblico. No início do jogo, ele tentava, mas não conseguia produzir grandes chances. Aos 25 minutos do primeiro tempo, um chute de Philippe Coutinho ia para o gol quando o camisa 10 desviou a bola para fora. Torcedores alternavam elogios e esperanças por um lance do craque que poderia resultar em gol e, como isso não ocorria, faziam muitas críticas.
A professora Lara Correa, porém, estava animada: "Neymar relaxou. Depois do choro, a ficha caiu, e ele está jogando bem", disse. A agrônoma Isabela Azevedo discordou: "Neymar é muito estrela", afirmou Isabela. Para ela, é muita gente glorificando uma pessoa. "E há outras com a mesma capacidade."
Foi dos pés de Coutinho que partiu o lançamento para Paulinho, que saiu na frente dos zagueiros da Sérvia e deu um toque encobrindo o goleiro. Gol do Brasil, explosão das pessoas e tranquilidade de quem sofria com a dificuldade da seleção brasileira para encontrar chances de perigo para o adversário.
Camisa amarela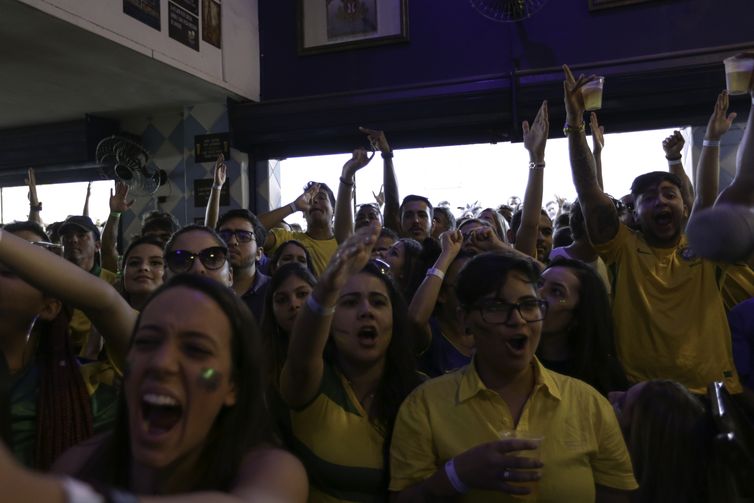 Dentro do campo, o amarelo brasileiro contrastava com o vermelho do time da Sérvia. Em alguns locais, camisetas da seleção foram adaptadas e a cor alterada para vermelho. Nos estabelecimentos da Quadra 201 Sul, uma multidão vestia amarelo, especialmente camisetas da Confederação Brasileira de Futebol (CBF). A empresária Gláucia Carvalho disse que abriu uma exceção por causa do torneio. "Se não fosse pela Copa, eu não colocaria a camisa do Brasil. Tenho vergonha da corrupção", disse Gláucia.
Amiga de Gláucia, Pâmela Rytchelle não viu problemas em vestir o uniforme e disse que o uso da camiseta não deve ser associado a grupos políticos. "Os jogadores não têm culpa do que o governo faz."
Outra torcedora, a estudante Catarina Bittencourt, acrescentou: "Não é porque país sofre com a corrupção que não podemos torcer. Isso não é alienação".
Alívio
O segundo tempo avançava e o nervosismo aumentou com a pressão da Sérvia, que chegava cada vez mais perto do gol de Alisson. Porém, quando a Sérvia avançava, Thiago Silva aproveitou im escanteio e marcou o segundo gol do Brasil, trazendo tranquilidade às mais de 100 pessoas que acompanhavam com atenção o jogo, que selou a classificação do Brasil para as oitavas de final. Nesta fase, o Brasil enfrentará México. O jogo está marcado para as 11h de segunda-feira (2), em Samara.
As apostas sobre o futuro do Brasil na Copa também eram diferentes. Um torcedor, empolgado com o resultado, gritava: "Nós vamos ganhar esta Copa, pode escrever". Em outro bar no mesmo bairro, o técnico de basquete Paulo César Vieira celebrava a vitória com amigos, mas foi cauteloso. "O Brasil está jogando o que pode. Mas há problemas. A defesa é boa, mas ainda há questões no ataque e mudanças que poderiam ser feitas na escalação. Contra o México vai ser difícil."
Fonte: Agência Brasil.
The news, reports, views and opinions of authors (or source) expressed are their own and do not necessarily represent the views of CRWE World.