Primeiro templo religioso de Brasília, a Igreja Nossa Senhora de Fátima, também chamada de "igrejinha", completa 60 anos em 2018. Nesta quinta-feira (28), as homenagens se darão em missas ao longo do dia, as quais serão encerradas com a apresentação da Orquestra Sinfônica do Teatro Nacional Cláudio Santoro.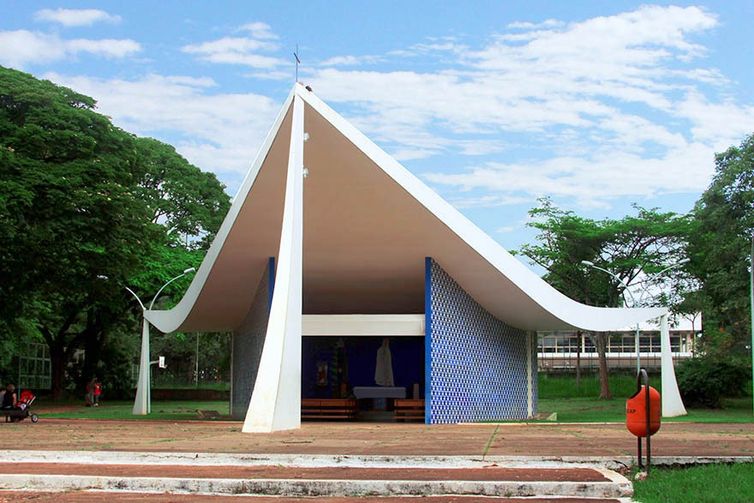 Construída em apenas 100 dias, a capela foi projetada por Oscar Niemeyer e sua arquitetura faz referência a um chapéu de freira, a partir da interligação de apenas três pilares por arestas sinuosas. Diz-se que o projeto foi feito a pedido da ex-primeira-dama Sarah Kubitschek, como agradecimento pela cura da filha.
Tombado pelo Instituto do Patrimônio Histórico e Artístico Nacional (Iphan) em 2007, assim como outras obras, em homenagem ao centenário de Niemeyer, o templo é revestido por azulejos de Athos Bulcão e por pinturas de Francisco Galeno, aluno de Alfredo Volpi, responsável pelo primeiro painel da igreja. Antes, havia afrescos com bandeirolas e anjos de Volpi, que foram cobertos por tinta em uma reforma ocorrida na década de 60, segundo informações da Paróquia Nossa Senhora de Fátima.
Apesar da riqueza artística do local, a igrejinha não perde a simplicidade. Frei Clézio Menezes dos Santos considera que isso a torna ainda mais especial. "A igrejinha junta duas espiritualidades: a mariana, desde a sua construção, com a simplicidade de Maria, por ser tão pequenina, por acolher o povo peregrino, e a espiritualidade franciscana, que também é marcada pela simplicidade", diz.
"Para nós, essa comemoração é importante por ser a primeira capela da nova capital, por ter esse símbolo forte de Nossa Senhora, por ser espaço para a devoção à mãe de Deus. E, em segundo lugar, porque desde a sua fundação ela é cuidada por frades capuchinos" - ordem religiosa de matriz franciscana -, acrescenta.
As comemorações ocorrem ao longo de todo este ano. Hoje, participantes poderão também ver as relíquias dos chamados pastorinhos de Fátima, Jacinta e Francisco, canonizados pela Igreja Católica em 2017. É a primeira vez que essas relíquias são exibidas em Brasília. A programação completa está disponível no site da instituição.
Fonte: Agência Brasil.
The news, reports, views and opinions of authors (or source) expressed are their own and do not necessarily represent the views of CRWE World.