A Colômbia venceu o Senegal hoje (28) por 1 x 0 e garantiu sua vaga nas oitavas de final da Copa do Mundo. A derrota representou a eliminação do time africano, que terminou a primeira fase com o mesmo número de pontos do Japão, mas, por ter mais cartões amarelos, acabou fora da Copa.
O número de cartões recebidos é um dos critérios de desempate, depois de saldo de gols, gols marcados e confronto direto. Japão e Senegal empataram em todos os critérios antes dos cartões.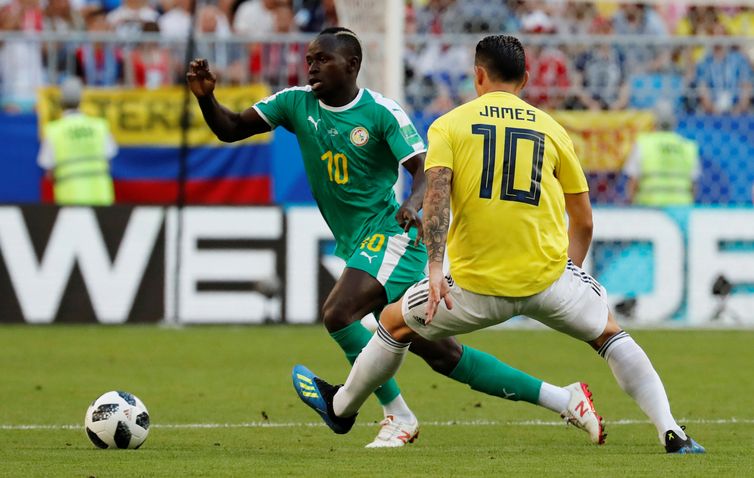 Senegal é o time africano que mostrou mais qualidade e chances de avançar na Copa da Rússia. Hoje, o empate classificava os africanos e eles começaram melhor o jogo. No entanto, diminuíram o ritmo no segundo tempo e deram chances a uma Colômbia desorganizada, mas com vontade de vencer.
A Colômbia pouco fez durante os 90 minutos. James Rodríguez, maestro do time, saiu aos 29 minutos com uma lesão. O time perdia o meio de campo para os africanos e Falcão Garcia, centroavante do time, pouco aparecia. Cuadrado, a principal válvula de escape do time colombiano, não estava em um bom dia. Errava dribles e passes e cedeu muitos contra-ataques ao adversário.
A Colômbia aproveitava a redução de ritmo de Senegal no segundo tempo e ia ao ataque. E o herói do jogo foi Mina. O zagueiro, que já havia marcado de cabeça contra a Polônia, repetiu o repertório e leva o time às oitavas de final.
Como foi o jogo
Senegal começou melhor a partida, dominando as ações e indo ao ataque. A Colômbia se assemelhava ao  time que perdeu para o Japão na primeira rodada, e não ao que venceu a Polônia por 3 x 0. Aos 16 minutos, Cuadrado perdeu a bola no meio de campo, Mané puxou o contra-ataque e foi derrubado na área. O árbitro marcou o pênalti para o Senegal, mas, após consultar o vídeo, voltou atrás. Davinson Sánchez havia tocado a bola antes de atingir o senegalês.
Senegal tinha mais a bola e ameaçava com jogadas de velocidade. A Colômbia exibia dificuldades em conduzir a bola ao ataque e esbarrava na marcação senegalesa.
Aos colombianos restava as jogadas de bola parada, quando eles chegaram com perigo duas vezes no primeiro tempo. Para complicar mais a situação da Colômbia, James Rodríguez foi substituído aos 29 minutos, aparentemente após voltar a sentir uma lesão que já o persegue desde antes da Copa.
No segundo tempo, a Colômbia começou mais ofensiva e passou a rondar mais a área do goleiro N'Diaye. O time sul-americano ainda errava muitos passes e dribles. Cuadrado, a principal arma ofensiva na ligação entre meio-campo e ataque, não estava bem no jogo e perdia muitas bolas. Mas a Colômbia crescia na partida.
Gol de cabeça
E aos 28 minutos, a Colômbia abriu o placar em uma cobrança de bola parada. Cuadrado cobrou escanteio e o zagueiro Mina subiu mais alto e mandou de cabeça para o gol: 1 x 0. Foi o segundo gol do zagueiro em jogada de escanteio nesta Copa.
Imediatamente após o gol, Senegal tentou responder e quase empatou, mas o goleiro Ospina defendeu o chute de Niang. Os africanos estavam sonolentos na partida, acomodados com o empate. Após sofrer o gol, partiram para o ataque.
O jogo começava a ficar dramático para Senegal, que se via eliminado com a derrota, uma vez que o Japão também perdia por 1 x 0 para a Polônia no outro jogo, mas superava os africanos nos critérios de desempate.
Com isso, a Colômbia termina em primeiro no grupo H, com 6 pontos. O Japão, com 4 pontos, fica em segundo e também está nas oitavas de final.
A Colômbia enfrentará o segundo colocado do grupo G e os japoneses jogarão com o primeiro colocado. O grupo G já tem definidos os classificados, Bélgica e Inglaterra. Ambos os times jogam às 15h desta quinta-feira para definir quem será o primeiro colocado do grupo.
Veja os 16 países classificados para as oitavas de final
1  Uruguai 
2  Rússia
3  Espanha
4 Portugal
5 França
6 Dinamarca
7 Croácia
8 Brasil
9 Argentina
10 México
11 Suíça
12 Suécia
13 Inglaterra
14 Bélgica
15 Colômbia
16 Japão
Fonte: Agência Brasil.
The news, reports, views and opinions of authors (or source) expressed are their own and do not necessarily represent the views of CRWE World.