Um decreto assinado hoje (28) pelo presidente Michel Temer prevê que os estudantes negros terão reservadas 30% das vagas em processos de seleção de estágio e na contratação de jovens aprendizes no serviço público. A medida busca fortalecer a inserção dos jovens negros no mercado de trabalho.
De acordo com o Ministério dos Direitos Humanos, a proposta é aplicar a mudança na administração pública, autarquias, fundações públicas e sociedades de economia mista controladas pela União. Na cerimônia de assinatura do decreto, no Palácio do Planalto, dirigentes do Banco do Brasil, da Caixa Econômica, da Petrobras e do Banco do Nordeste assinaram termo de compromisso da reserva de vagas.
No discurso, o presidente Michel Temer disse que o decreto tem fundamental importância para a inclusão social, um dos pilares de seu governo. "Estamos dando mais oportunidades para segmento da população que enfrenta conhecido histórico de exclusão, que é vítima das mais diferentes formas", disse. Temer disse ainda que vai continuar seguindo na linha do diálogo permanente e da responsabilidade fiscal acompanhados da responsabilidade social.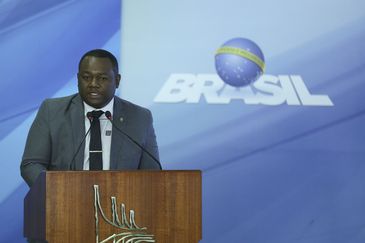 O secretário nacional de Políticas de Promoção da Igualdade Racial, Juvenal Araújo, disse que o decreto é um incentivo para jovens negros iniciarem a vida profissional e contribui também para a redução da desigualdade racial. "Essa ação, que também é afirmativa, representa muito mais que uma oportunidade de primeiro emprego, representa a construção de uma democracia com justiça social", disse.
O ministro da Secretaria de Direitos Humanos, Gustavo Rocha, lembrou que a cota de 30% estabelecida pelo decreto assinado hoje é superior à reserva de 20% das vagas em concursos públicos federais para negros: "todos sabemos que é muito difícil o início da vida profissional, principalmente para os negros".
Poderão concorrer às vagas reservadas, candidatos negros que se autodeclararem pretos ou pardos no ato da inscrição para seleção de estágio, conforme o quesito cor ou raça utilizado pela Fundação Instituto Brasileiro de Geografia e Estatísticas (IBGE).
O reitor da Universidade Zumbi dos Palmares, José Vicente, estima que o decreto pode possibilitar a criação de cerca de 40 mil vagas para jovens negros em estágios e programas de aprendizagem no setor público federal. "Eles terão a oportunidade de ingressar no primeiro emprego, ter um rendimento mínimo que permita que ele mantenha seus custos diários e possa permanecer na escola, além de fazer treinamentos indispensáveis para dar os saltos posteriores", disse.
A reserva de 30% das vagas em processos de seleção de estágio e na contratação de jovens aprendizes no serviço público atende a reivindicações do movimento negro nas áreas de educação, saúde e trabalho rumo à superação das desigualdades étnico-raciais, de acordo com o Ministério dos Direitos Humanos.
Fonte: Agência Brasil.
The news, reports, views and opinions of authors (or source) expressed are their own and do not necessarily represent the views of CRWE World.