O ministro da Segurança Pública, Raul Jungmann, disse que se fala muito em repressão à criminalidade no Brasil, quando a melhor política que pode ser praticada é a da prevenção. Na visão dele, a sociedade, com razão, quer punição aos criminosos, mas, nomeando todas as facções espalhadas no país, alertou que o sistema penitenciário é "controlado pelas grandes gangues". "Nós nos tornamos recrutadores dos soldados para o crime organizado que vai para dentro do sistema penitenciário, ou seja, nós estamos fazendo crescer um monstro para nos destruir. Vamos ser claros. Precisamos desarmar isso", disse.
De acordo com o ministro, o "motor da violência" no Brasil está na juventude de 15 a 24 anos. "Se olhar o que acontece no sistema prisional e nas periferias é ver essa moçada que está morrendo, mas também está matando muito acima da média", disse, destacando que são esses jovens que, ao serem presos, aumentam o número de integrantes de facções criminosas nas prisões. 
Esta violência também se reflete na sociedade. "Uma sociedade que é vulnerável, que sai daqui e pode levar uma bala perdida, como aquele garoto ou os policiais que estão morrendo para salvar nossas vidas. Isso é trágico, revoltante e indigno", disse o ministro.
Terceira maior população carcerária
De acordo com o ministro, o sistema prisional brasileiro tem atualmente a terceira maior população carcerária do mundo, atrás dos Estados Unidos e da China. Ele destacou que os números, que não são exatos, apontam para 726 mil apenados no Brasil, número que cresce a cada ano. Jungmann disse que a população prisional está crescendo, em média, 7% ao ano. Isso resultará, ao final de 2019, em mais de 1 milhão de presos no Brasil.
"São jovens que estão indo para a cadeia, é o nosso futuro que está indo para a cadeia e esses jovens que estão lá sobretudo são pretos, pardos, de baixa educação e de baixa renda, ou seja, somos também seletivos neste sentido. Não estamos criando oportunidade para esta juventude".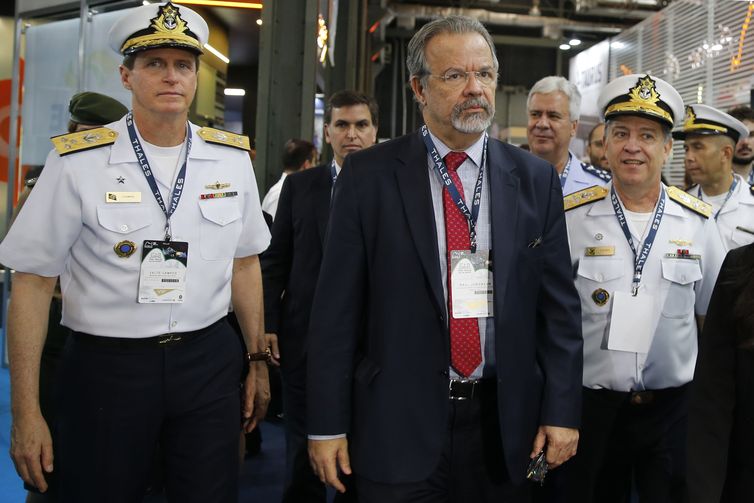 Plano nacional
Para o ministro, o Brasil precisa elaborar um plano decenal de segurança pública construído por todos os que fazem parte dessa área. Jungmann disse que, pela primeira vez, o governo federal lidera ações de segurança pública e avaliou que este é o motivo de, até agora, não ter sido preparada uma política nacional para o setor. 
Essa lacuna, para Jungmann, não foi solucionada pela Constituição de 1988, que embora tenha definido atuações nas áreas de saúde e educação, inclusive com destinação de recursos, não garantiu tratamento semelhante para a segurança. 
Uma das preocupações com a criação do ministério, foi definir além das áreas de atuação, as formas de garantir os recursos necessários para um setor que dependia apenas de orçamento de governos estaduais. Segundo o ministro, com o Sistema Único de Segurança Pública (Susp) esta situação mudou porque os recursos passaram a ser definidos por lei. A isso, se juntou a linha de crédito aberta pelo Banco Nacional de Desenvolvimento Econômico e Social (BNDES) para a contratação de empréstimos aos estados destinados a projetos da área de segurança.
Integração
Segundo Jungmann, a palavra-chave para enfrentar o crime organizado no país é integração, sem o que não se resolve o problema. Na visão do ministro, parte do enfrentamento dessa questão, avançou com a criação do Susp, alimentado por dados e avaliações de órgãos de segurança federais e estaduais. Além disso, começou a funcionar a Câmara Setorial de Prevenção Social e de Segurança, que se reúne frequentemente no Palácio do Planalto, com a participação dos ministros da área social do governo. Um dos resultados desses encontros é a parceria com o ministério da Educação para a inauguração de uma Escola de Segurança Pública.
Jungamann deu as declarações durante participação no Rio International Defense Exhibition -Ridex 2018, no Pier Mauá, centro do Rio, uma feira de equipamentos de Defesa. Depois da palestra, o ministro foi atendido, em uma sala reservada, por uma médica da marinha, porque estava sentindo muita dor provocada por uma otite no ouvido esquerdo. Lá mesmo ele foi medicado e percorreu a feira.
 
Fonte: Agência Brasil.
The news, reports, views and opinions of authors (or source) expressed are their own and do not necessarily represent the views of CRWE World.
**Disclaimer:The news, reports, views and opinions expressed by the Crowdfunding Platforms that are advertised at crweworld.com are their own and do not necessarily represent the views of CRWE World. Crown Equity Holdings Inc. has received $2,000.00 (two thousand dollars) in cash for 30 days of advertisement services for ChoiceTrade Holdings from Wallstreet Equities Ltd.