Tendo em vista a importância da gestão eficiente de resíduos sólidos para a preservação ambiental, o governo distrital preparou mais de 200 atividades relacionadas ao tema , que acontecem durante a Virada do Cerrado. Até o próximo domingo (1º), a população de Brasília poderá participar de palestras, oficinas, trilhas e caminhadas em que serão disseminados conhecimentos sobre o descarte adequado de lixo e outras medidas de proteção e valorização do bioma, que tem sido fragilizado pelo desmatamento.
Para a sanitarista Núbia Patrícia, que coordenou hoje (29) ações educativas voltadas a crianças dos ensinos infantil e fundamental de duas escolas, decisões aparentemente simples, como separar os descartes utilizando lixeiras diferenciadas por cores, podem ter grande valor.
"Acho muito importante esse tipo de orientação. E, devido à crise hídrica, a atenção deles [com questões ambientais] aumentou. Eles sentiram o racionamento, sabem que pode acabar a água potável", acrescentou, em referência à medida de controle de distribuição de água no DF, que durou quase um ano e meio.
Coleta seletiva no DF
Pouco mais da metade do Distrito Federal conta com a coleta seletiva de lixo, processo que separa os resíduos orgânicos dos recicláveis e garante que materiais como metal, vidro e papel tenham uma destinação apropriada, podendo ser reaproveitados. Segundo dados da administração pública local, atualmente, apenas 52% dos municípios da região dispõem desse tipo de serviço.
No Cruzeiro Velho, por exemplo, equipes que executam o trabalho passaram a circular somente este mês, apesar de o bairro ter sido fundado logo no início da construção de Brasília, cidade quase sexagenária e que abrigou, até janeiro deste ano, o maior lixão da América Latina, o Aterro Controlado do Jóquei, mais conhecido como Lixão da Estrutural. O local foi desativado após 60 anos de funcionamento, sendo substituído pelo Aterro Sanitário de Brasília, inaugurado com a promessa de ser o primeiro do Brasil a receber somente rejeitos, isto é, materiais não-reutilizáveis.
Caso desejem solicitar o serviço de coleta seletiva em seu bairro, os brasilienses podem acessar um canal do Serviço de Limpeza Urbana do Distrito Federal (SLU). Através do mesmo site, os cidadãos podem aprender a fazer a separação adequada do lixo que produzem e obter informações sobre como e onde descartar resíduos especiais, como lâmpadas fluorescentes, medicamentos vencidos e eletroeletrônicos.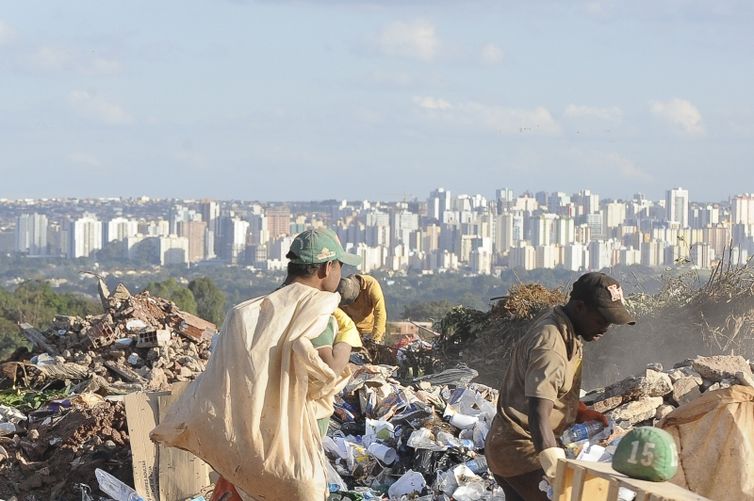 Panorama
A Confederação Nacional de Municípios (CNM) lançou, no último dia 5, a Campanha Municípios Lixo Zero, com o objetivo de mobilizar a população para que incorpore à rotina práticas que contribuam para diminuir a produção de lixo, como um consumo mais moderado de produtos em geral. A instituição divulgou que, de 2015 para 2017, o número de aterros sanitários brasileiros diminuiu 0,8%. A conclusão foi de que, nesse intervalo de dois anos, 36 aterros sanitários foram fechados, passando de 2.040 para 2.006 unidades.
O aterro sanitário é considerado uma estrutura melhor do que o aterro controlado e o lixão, já que, em seu interior, contém sistemas que impedem que substâncias nocivas ao meio ambiente contaminem o solo e os corpos hídricos existentes em seu entorno. Para chegar a essa porcentagem, a CNM consultou 75,6% (4.224) dos 5.568 municípios do país.
A Organização das Nações Unidas (ONU) também tem reiterado os discursos de alerta contra os crescentes riscos do lixo gerado no mundo todo. Também no início deste mês, o secretário-geral da organização, António Guterres, afirmou que, a cada ano, mais de 8 milhões de toneladas de substratos plásticos são lançados nos oceanos, volume que, se não for controlado, pode, em 2050, ultrapassar a quantidade de cardumes de água salgada.
Fonte: Agência Brasil.
The news, reports, views and opinions of authors (or source) expressed are their own and do not necessarily represent the views of CRWE World.