Depois de um dia de folga em Sochi, na Rússia, a seleção brasileira voltou a treinar hoje (29), dando início aos preparativos para o jogo contra o México, na próxima segunda-feira (1) pelas oitavas de final. Nas atividades com bola, o técnico Tite pode contar com o reforço do lateral direito Danilo, recuperado da lesão no quadril, que o deixou fora das duas últimas partidas da fase de grupos da Copa do Mundo. Douglas Costa e Marcelo porém ainda estão aos cuidados do departamento de fisioterapia.
Os jogadores que iniciaram a partida contra a Sérvia fizeram atividades regenerativas com o preparador físico Fábio Mahseredjian, alongamento e corrida em volta do gramado. Neymar, Filipe Luís e Philippe Coutinho treinaram chutes a gol. Os demais fizeram aquecimento com o preparador Ricardo Rosa e seguiram para um trabalho técnico-tático em campo reduzido, com dois times de quatro jogadores e a participação dos goleiros. Alisson, Ederson e Cássio trabalharam com o preparador Taffarel e o assistente Rogério Maia.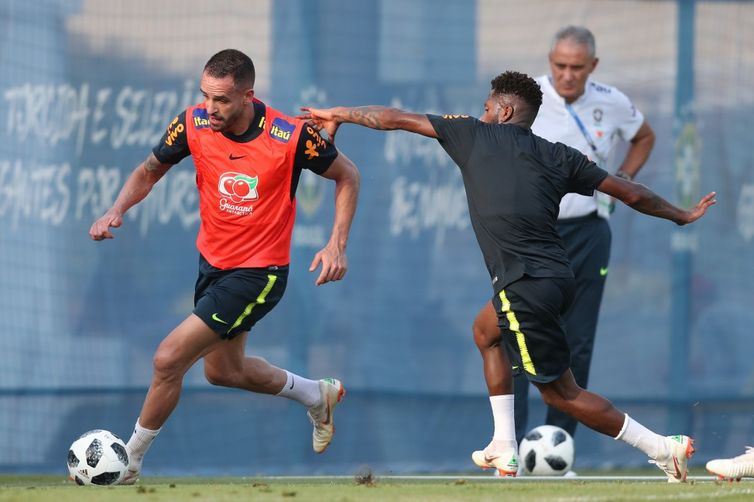 Titular na estreia do Brasil na Copa da Rússia, Danilo participou das atividades com o grupo de reservas. "Estou de volta graças ao trabalho dos fisioterapeutas, médicos e preparadores. Nós trabalhamos quase que todo o tempo nestes dias em que estive fora. Hoje já pude treinar em alta intensidade com a equipe. O mais importante é estar à disposição e ajudar o grupo", disse.
Antes das atividades, Tite conversou por cerca de 10 minutos com a equipe e a comissão técnica. Marcelo participou desta etapa, mas em seguida voltou para a fisioterapia, onde segue tratamento para o espasmo que sofreu na musculatura da coluna. O lateral esquerdo foi substituído aos 9 minutos do primeiro tempo da partida contra a Sérvia, na qual o Brasil garantiu o primeiro lugar do grupo E, com sete pontos.
O treinamento terminou com cobranças de pênaltis. Logo depois, os filhos dos jogadores tomaram o campo. Hoje participaram da brincadeira os filhos de Neymar, Fágner, Danilo, Alisson, Willian e Paulinho.
A seleção volta a treinar neste sábado (30) pela manhã (horário de Brasília). No início da noite, a delegação embarca para Samara, onde enfrentará o México, a partir das 11h (horário de Brasília) de segunda-feira, em partida válida pelas oitavas de final da Copa do Mundo. Neste domingo, a seleção deve fazer o reconhecimento de gramado em Samara, com treino de uma hora cronometrado pela Fifa.
* Com informações da CBF
Fonte: Agência Brasil.
The news, reports, views and opinions of authors (or source) expressed are their own and do not necessarily represent the views of CRWE World.