Dos 25 espaços culturais do Distrito Federal a cargo da Secretaria de Cultura, pelo menos 13 passaram ou ainda vão passar por reformas. Além do Teatro Nacional Claudio Santoro, espaço importante como o Museu de Arte de Brasília (MAB) também está sem uso – o que reduz as opções de cultura da região.Os investimentos na área, necessários para obras dos espaços físicos, ficaram praticamente congelados em 2015 e 2016, diante da crise orçamentária do Distrito Federal. Após esse período, obras foram iniciadas e espaços, reinaugurados. Ainda resta, no entanto, muito a se fazer.
A lista dos locais que precisam de reformas é extensa. O Museu de Arte de Brasília é um dos principais. Abandonado desde 2007, o MAB teve as obras iniciadas somente no ano passado, dez anos depois. A previsão de conclusão é julho de 2019. O local que abrigava um acervo de nomes como Thomie Ohtake, Athos Bulcão e Iberê Camargo hoje tem as paredes preenchidas por grafites. "Abaixo a realidade" diz uma pilastra, complementada por outra logo atrás, na qual se lê: "É lindo". O novo acervo espontâneo inclui ainda um cachorro salsicha e um boneco que se apoia em um portal.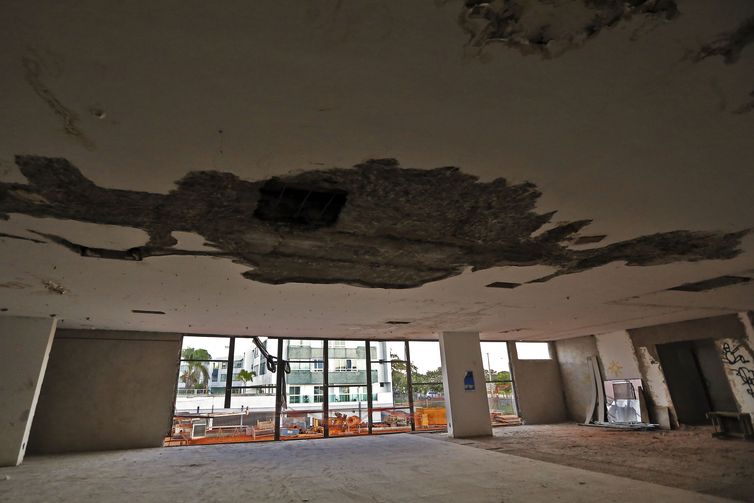 A lista segue: a Concha Acústica, embora esteja aberta para visitação e realização de eventos, está com as obras em fase de licitação. Estão sendo feitos reparos no Museu Vivo da Memória Candanga, também aberto para vistantes. O Museu Nacional, a Biblioteca Nacional de Brasília e o Memorial dos Povos Indígenas passaram por reparos ou obras de manutenção. Os complexos culturais de Samambaia e Planaltina foram reformados e agora aguardam equipamentos cênicos e mobiliário para voltar a funcionar. Segundo a secretaria, os equipamentos já foram adquiridos, e os espaços devem ser reabertos em breve.
O espaço mais crítico é o Teatro Nacional, fechado desde 2014, que ainda não tem os recursos necessários para que a reforma comece. Diante da falta de orçamento, o projeto inicial foi revisto e obra total será fracionada, o que permitirá que as salas sejam reabertas e passem a ser usadas uma por uma na medida que foram ficando prontas.
"Antes mesmo de serem fechados, os espaços já passavam, há uns 30 anos, por processos de degradação progressiva e contínua, por falta de manutenção e modernização", diz o secretário de Cultura do Distrito Federal, Guilherme Reis.
Reaberturas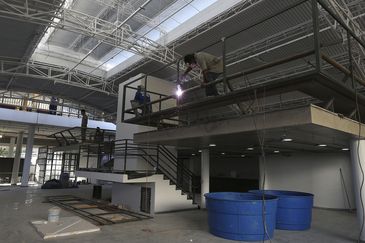 O cenário começa a mudar: o Espaço Cultural Renato Russo, fechado desde 2013, será reaberto hoje (30). Foram investidos, segundo a Secretaria de Cultura, R$ 6,2 milhões. O espaço, antes chamado de Teatro Galpão, recebeu importantes nomes como Hugo Rodas, Irmãos Guimarães, Alexandre Ribondi, Guilherme Reis, Cássia Eller, entre outros.
Também está na lista de reinaugurações deste ano a Pira do Panteão da Pátria, cuja chama se apagou em agosto de 2016. Foram investidos R$ 149,7 mil na reforma. Outros dois espaços já foram reabertos: o Centro de Dança, fechado desde 2013, e a Biblioteca Pública de Brasília, que ficou fechada um ano.
Segundo Reis, as obras tiveram início mais para o final do governo devido à crise orçamentária pela qual passava o Distrito Federal. Reis diz que buscou alternativas de financiamento e novos modelos de parceria para que os espaços voltassem a funcionar com qualidade.
As reaberturas ocorrem no limite para a participação do atual governador, Rodrigo Rollemberg, nas inaugurações, caso concorra à reeleição. Segundo o Tribunal Superior Eleitoral (TSE), a partir de 7 de julho os candidatos não podem participar de inaugurações de obras públicas.
A secretaria tem entregado os centros culturais ainda inconclusos, ou com equipamentos faltando, como no caso do Centro de Dança. O Espaço Cultural Renato Russo deverá seguir com obras pontuais por mais um mês. "Eu, como produtor, como artista, quero usar. O Teatro Galpão está pronto? Está faltando o quê? Falta comprar os praticáveis que permitirão modular plateia. Mas eu já quero", diz. O secretário negou que haja intenções políticas.
Ele cita o Complexo Cultural de Samambaia, que ainda precisa ser equipado. "Eu falei para ele [governador], não vai inaugurar; não vou permitir inauguração política. Vamos deixar tudo pronto funcionando", diz.
Faltam planos
Segundo o professor do Departamento de Projeto, Expressão e Representação em Arquitetura e Urbanismo, da Faculdade de Arquitetura e Urbanismo da Universidade de Brasília (UnB), Frederico Flósculo, o problema da manutenção no Distrito Federal é mais antigo e mostra a fragilidade de planejamento desde a transferência da capital. Aos 58 anos de idade, Brasília mostra sinais de deterioração nas mais diversas estruturas. No início do ano, parte do viaduto de uma das principais ruas da cidade desabou, atraindo a atenção de todo o país.
"Não são apenas problemas de um ou outro governo. Precisamos entender que o projeto de transferência de capital é muito difícil. Até hoje estamos subestimando o grau de dificuldade de uma transferência de capital", diz. O professor afirma que o DF tem uma boa legislação, mas que não é cumprida. A Lei Orgânica do Distrito Federal, promulgada em 1993, determina, por exemplo que seja feito um zoneamento ambiental do território, definindo as limitações e condicionantes ambientais para a ocupação dos espaços territoriais.
"Isso nunca foi feito", diz, ressaltando que ainda não se sabe o verdadeiro impacto ambiental da construção de Brasília. "Não sabemos quantas nascentes foram extintas. Alguns dizem centenas, outros milhares."
Frederico Flósculo defende que haja planos claros e que eles tenham continuidade. Segundo o professor, não há um grande plano sobre a manutenção das estruturas físicas da capital. Cultura não é exceção."Planos deveriam ter objetivos claros. No caso da cultura, seria dizer que estamos com X espaços culturais, vamos ampliar o alcance desses espaços. Nosso objetivo é dobrar meta de atendimento, por exemplo. O plano traria estratégias para saber como faço isso", explica.
"Cultura é coisa séria. Precisamos ter planos sérios, conectados com educação, com mobilidade, com terceira idade, com infância. Cultura é política poderosa, do pensamento, da sensibilidade, da inteligência. Tem também tudo a ver com segurança porque cria um senso de comunidade", defende.
Fonte: Agência Brasil.
The news, reports, views and opinions of authors (or source) expressed are their own and do not necessarily represent the views of CRWE World.