Ready to pursue growth and shareholder value with exploration at the world's largest known undeveloped potash basin
Patterns formed by the cutters of a boring machine in an underground potash mine (Source: Bloomberg)
According to an exchange bulletin last Friday after market close, Vatic Ventures Corp. "has met the requirements to be listed as a TSX Venture Exchange Tier 2 company. Therefore, effective at the open of trading, Monday, Feb. 5, 2018, the company's listing will transfer from the NEX to the TSX Venture Exchange, the company's tier classification will change from the NEX to Tier 2, and the filing and service office will change from the NEX to Vancouver. Effective at the opening, Monday, Feb. 5, 2018, the trading symbol for the company will change from VCV.H to VCV."
This is great news for Vatic Ventures and its shareholders as an uplisting to the TSXV will attract new investors and a much larger audience. About the NEX and the advantage of being listed on the reputable TSXV:
"NEX is a separate board of TSX Venture Exchange. It provides a trading forum for listed companies that have fallen below TSX Venture's ongoing listing standards. Going forward, companies that have low levels of business activity or have ceased to carry on active business will trade on the NEX board, while companies that are actively carrying on business and pursuing growth and shareholder value will remain with the main stock list of TSX Venture Exchange. This differentiation provides two distinct marketplaces – each with its own risk profile, unique characteristics and specific opportunities. NEX companies will benefit from the support and visibility provided by a listing and trading environment tailored to their needs, while the profile and reputation of TSX Venture Exchange companies will be enhanced as a result of the overall improved quality of the main TSX Venture stock list."
In other words: With a current market capitalization of $3.6 million CAD, Vatic Ventures is now ready to create shareholder value by actively carrying on business and pursuing growth with its Saksrithai Potash Project next door to Thailand's first potash mine, which is expected to go into production this year.
Thanks to several financings in late 2017 and another $500,000 financing, which closed today, Vatic has the required funds to start drilling for potash and get the market excited about this project in case similar high-grade potash can be intersected at shallow depths as being the case with the neighboring Dan Khun Thot Potash Mine from Thai Kali Company Ltd. And the chances are quite high because potash beds typically extend for thousands of meters and are likely to be also found on Vatic Ventures´ property, as last year´s seismic survey has indicated.
Compelling Competitive Advantages
What makes Vatic's property in the heart of the Khorat Basin so interesting (and highly attractive) for exploration and development is that the potash deposits generally occur at relatively shallow depths between 150-300 m and are gently dipping, providing substantial savings in project capital costs. Compare that to the depths between 1,000-1,600 m in Saskatchewan (Canada) and 3,000 m in North Dakota (USA), which translates into relatively excessive exploration and production costs.
Moreover, the Khorat Basin hosts the world's largest known undeveloped potash deposits, containing billions of tonnes of high-grade potash. The shallow overburden consists of claystone and evaporite beds. The potash intervals are between 10-75 m thick (depending on the location within the basin) and are composed of carnallite (magnesium-potassium chloride) and sylvite (potassium chloride). Holes drilled by Vatic's neighbor Thai Kali showed both carnallite (up to 60 m thick) and sylvite (up to 5 m thick) with grades of up to 34.03% KCl (21.5% K2O). Initial production level at Thai Kali´s Dan Khun Thot Mine is projected at 500,000 t per year. Initial mineable resource estimated at 103 million t at an average potash grade of 20.6% KCl (13% K2O) assuming a cut-off grade of 16% KCl. The government granted mining licences in 2014, whereafter construction of the access declines commenced, with initial production expected in 2018. It´s one of 3 potash projects under development in Thailand.
In other words: That´s a world-class potash mine and Vatic is right next door, potentially sitting on a similar deposit that may get officially discovered by the drill bit soon. In 2017, Vatic completed a seismic survey over its Saksrithai Property to locate drill targets. Andrew Watson from GeologyForInvestors.com looked into the value proposition of Vatic and had the following to say:
"Vatic´s survey has identified three drill targets located at the farthest reaches of their seismic survey lines and project area:

Seismic Survey by Vatic Ventures. Targets are highlighted by circles and numbers.
Like all mining, Potash is a tonnage game and successful miners will get the most out for the least amount of money. Thai Kali's project appears to have an advantage over more traditional areas in that it is a shallow, fairly high grade deposit (21.5% KCl, with pockets up to 35% KCl) located right on the doorstep of the largest markets: China and India. Vatic has taken the classic "good neighborhood" approach to exploration by situating themselves in an up and coming area next to Thai Kali's late-stage project. If they successfully drill and produce nice intervals on the extreme ends of their project area, they'll be able infer a massive potential resource and justify some larger scale investment for infill drilling and resource definition. Not an unreasonable idea." (Source: "Vatic Ventures – Potash in Thailand", 2017)
It's The Right People That Make It Work
Vatic's CEO is Dr. Gerry Wright who is also the Principal of Hong-Kong based Red Branch Investments Ltd., from which company Vatic acquired the rights to purchase the shares of Saksrithai Development Co. Ltd., a private Thai company which is the holder of 2 contiguous Special Prospecting Licences (SPLs; issued in 2015) for potash exploration at the Saksrithai Property. Dr. Wright is a Professional Engineer (Province of BC) and holds a Doctorate in Engineering from Queen's University, Belfast. He was co-founder of the Crew Group of Companies and has over 30 years experience in the minerals exploration and development industry in Asia, North America, Europe and Africa, serving as a Senior Officer and Director of a number of public and private companies. He has extensive experience and knowledge of the global potash industry and, in particular, the potash resources underlying Thailand's Khorat Plateau. Dr. Wright served as CEO of Asia Pacific Resources Ltd. for some 12 years, in which capacity he was directly responsible for the acquisition, financing and development of that company's Udon Thani Project in Thailand, which is Asia's most significant commercial potash discovery to date. Dr. Wright is now responsible for the development of the Saksrithai Potash Project from Vatic Ventures.
Vatic's President, Nasim Tyab commented on the appointment of Wright as new CEO in 2017: "The company is delighted to have Gerry join our board of directors and lead the development of the Saksrithai potash exploration licences as CEO. Gerry's successful track record in potash exploration in Thailand and capital markets background will augment our board and guide the company through this exciting new period of growth." Mr. Tyab was interviewed in August 2017 providing some further background information on Dr. Wright and the advantages of the Saksrithai Potash Project.
Last year, Vatic also engaged Jitisak Premmanee, an experienced Thai geologist with expertise in potash exploration in Thailand and Laos, as its Senior Geological Consultant. Mr. Premmanee will supervise all field programs as well as be responsible for transparent community information and consultation programs to discuss the project implications with the local communities. Vatic feels that it is essential for local communities be fully appraised regarding the proposed exploration activities and invited to provide their input and support for the project. The program will continue throughout the overall exploration period.
The Saksrithai Potash Project
The Saksrithai licence area (32 km2) is located in the Nakhon Ratchasima Province of northeast Thailand, approximately 270 km from Bangkok. In early 2015, 2 exclusive exploration licences (SPLs) were issued to Saksrithai Developments Co. Ltd. and have an initial term of 5 years, but such licences may not be transferred to a third party – as such, Vatic has acquired an 80% interest in Saksrithai, thereby obtaining full security of tenure over the licences and control of the project development. The Saksrithai licence area is adjacent to the Dan Khun Thot Mining Project from Thai Kali, presently under development (see below picture of the advanced construction of an access decline).
Digging a tunnel at the Dan Kun Thot Potash Mine, next door to Vatic Venture's Saksrithai Potash Property:
After mining licences have been received, the Dan Khun Thot Potash Project commenced construction of an access decline. Vatic's Saksrithai Property borders directly on Dan Khun Thot. (Source: Thai Kali Company Ltd.)
Potash Globally
According to a global assessment of potash resources by USGA:
"Global scarcity is not the issue with potash – transportation costs are."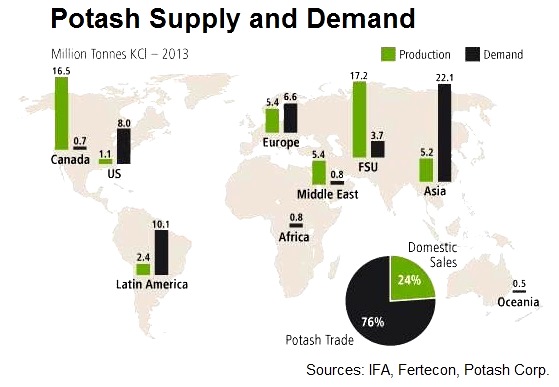 Potash is an essential plant nutrient, one of the 3 required fertilizers for crops such as rice, wheat and palm oil. Potash is produced from potassium-bearing ores, such as sylvinite and carnallite, by conventional underground mining, solution mining or evaporation from brine lakes.
The present annual world production of potash is about 60 million tonnes KCl, with an annual growth rate of about 2.4%. The major producing countries include Canada, Russia, Belarus, and Germany, which combine for 80% of world production. The industry's 5 top producing companies account for 80% of world production.
Excluding the limited production from China's Qinghai salt lake, the only known potash resources in Asia are located in Thailand's Khorat Basin. (More Information)
Growing Asian Potash Demand
• The majority of the growth in potash demand is expected to occur in developing countries, with demand in developed countries remaining relatively flat.
• Asia currently consumes over 40% of global potash production and the Southeast Asia region is expected to see the highest growth rate in potash demand.
• The target markets of Thailand, Indonesia, Malaysia and Vietnam currently consume over 5 million t KCl per year, growing at an estimated rate of about 6% per year.
• Indonesia and Malaysia are the world's largest producers of palm oil, while Thailand and Vietnam are among the world's leading producers of rice.
• The production of rice and palm oil account for some 70% of potash usage in the region.
Thailand's Strategic Location
• Thailand is strategically located relative to the growing potash markets of Southeast Asia, where the major use of potash is for rice and palm oil cultivation.
• Vatic's marketing strategy will focus on meeting the increasing demand of the ASEAN counties of Thailand, Indonesia, Malaysia and Vietnam. These 4 countries consume about 75% of Asian potash imports (excluding China and India) and have a current demand of over 4 million t KCl per year, rising at an estimated 5% annually.
• Proximity to target markets, combined with convenient and flexible transportation options, provide major transportation cost advantages (up to $60/t) over Canadian and European suppliers.
Potash in Thailand
• Thailand's Khorat Basin represents the world's largest undeveloped potash deposit, hosting extensive high-grade potash resources.
• The shallow depth to the potash deposits, up to 350 m, results in lower capital and operating costs than most proposed developments elsewhere.
• Thailand's proximity to key potash markets results in significantly lower transportation costs to regional markets.
• Thailand enjoys excellent regional infrastructure, including electrical power and transportation, and thus the country enjoys a strategic location with access to key regional markets. (More information)
• In 2014, the Ministry of Industry set up a special steering committee to promote the development of the country's potash resources. (More information)
• Also in 2014, the Dan Khun Thot Project received mining licences, whereafter construction of the underground mine started, scheduled to start mining operations in 2018 – set to become Thailand's first potash mine, and Vatic is right next to it.

"Thick beds of rock salt have been found in the Sakon Nakhon and Khorat basins in northeastern Thailand. These deposits occur in the Cretaceous Maha Sarakam Formation. Substantial reserves of potash and salt in these deposits resulted in the establishment of potash projects. The Thai Government has invited the Asian member countries and local enterprises to explore and exploit this resource." (Source)
Previous Coverage
Report #3: "Vatic Ventures starts seismic survey at its Saksrithai Potash Project: Next door to Thailand's first potash mine"
Report #2: "Vatic Ventures enters the world's largest known undeveloped potash resources"
Report #1: "Vatic Ventures is back"
Company Details
Vatic Ventures Corp.
1500-1040 West Georgia Street
Vancouver, B.C., V6E 4H1, Canada
Phone: +1 778 373 6972
Email: info@vaticventures.com
www.vaticventures.com
Shares Issued & Outstanding: 45,023,873
Canadian Symbol (TSX.V): VCV
Current Price: $0.08 CAD (02/02/2018)
Market Capitalization: $3.6 Million CAD
German Symbol / WKN: V8V1 / A2AFZ3
Current Price: - (02/02/2018)
Market Capitalization: €- Million EUR
Disclaimer: Please read the full disclaimer within the full research report as a PDF (here) as fundamental risks and conflicts of interest exist. The author, Stephan Bogner, holds a long position in Vatic Ventures Corp. and is paid a monthly retainer by Zimtu Capital Corp., which company also holds a long position in Vatic Ventures Corp.
The Views and Opinions expressed in this article are the author's own and do not necessarily reflect those of this Web-Site or its agents, affiliates, officers, directors, staff, or contractors.