Toronto, Ontario--(Newsfile Corp. - June 27, 2018) - Royal Road Minerals Limited (TSXV: RYR) ("Royal Road" or the "Company") is pleased to announce new results from deep auger soil-sampling and a ground magnetic survey at its Caribe prospect, and from alteration mapping and soil geochemical sampling at its Los Andes project, Nicaragua. Both projects have been advanced to drilling-stage with permitting now underway.
The Caribe and Los Andes projects form part of the Company's 50-50 Strategic-Alliance agreement (see press release; September 6, 2017) with Mineros Nicaragua (a subsidiary of Colombia's Grupo Mineros S.A. MINEROS:CB).
Caribe Gold Project
The Caribe project was discovered by Royal Road's exploration team during reconnaissance follow-up of airborne geophysical anomalies in February of 2018. The project is located in the highly prospective Golden Triangle of northeastern Nicaragua (Figure 1), a region characterized by gold veins, skarn and porphyry-style mines that have combined to produce in excess of an estimated 8 million ounces of gold since the early 1900's. Topographically, the Caribe prospect area is relatively flat and there is no outcrop. Initial grab sampling of strongly weathered, altered and brecciated felsic volcanic float material returned anomalous gold with associated anomalous values in molybdenum. Two programs of deep auger soil sampling have now been conducted across the area using a 3-meter long hand-auger to access residual soils located below the weathered saprolitic layer. Soil-sampling to-date has identified a strongly anomalous, "semi-circular" area which new ground magnetic data suggests corresponds to magnetic lows, possibly located at the intersection of northwest and east-northeast trending linear features (see Figure 1). Soil gold geochemistry ranges from 20 to 983ppb (mean 149ppb gold) and covers some 1200m in strike-circumference, 200 meters in width and remains open to the northeast and southeast (see Figure 1). The highest grab rock-chip sample collected from hand dug shafts in the area returned 3.5 grams per tonne gold (range 0.01 to 3.536 grams per tonne gold; note grab samples are selective samples and are not necessarily representative of the mineralization hosted on the property) from quartz-veinlet stockwork hosted in strongly oxidized rhyodacite with potassium feldspar alteration.
Deep auger soil sampling is currently being extended to the east of the current anomaly but the Company now considers the Caribe project as drill-ready. The exploration team has positioned a series of scout drill holes and commenced the application process for drilling permissions.


Figure 1
To view an enhanced version of this graphic, please visit:
https://orders.newsfilecorp.com/files/4008/35508_royalroad1enhanced.jpg
Los Andes Copper Gold Project
Royal Road acquired the Los Andes project from Caza Gold Inc in 2017 ("Caza"). The project is located in Boaco province of western Nicaragua. It is characterized by a 7 kilometer long, strongly altered caldera-controlled "lithocap" which hosts anomalous copper, gold and pathfinder elements in rock-chip geochemical samples. Previous exploration was focused on testing the gold potential of the project. Short exploratory drilling campaigns conducted by Caza in 2014-15 targeted silicified lithocaps and localized breccias and intersected strong alteration and anomalous copper, silver, and gold in a few of the holes, but failed to intersect any potentially economic intervals of mineralization. In 2015 Caza completed an airborne geophysical survey over the area which highlighted a well-defined magnetic anomaly at the southern limit of the caldera structure (Carrao porphyry prospect; see Figure 2). Three drill holes were drilled in the area (see Figure 2). All drill holes intersected anomalous copper mineralization with one drill hole (QZP-003) in particular, intersecting some 150 meters of massive pyrite of a style consistent with the upper parts (pyrite shell) of an underlying porphyry copper-gold system.
Additionally some 1500 rock-chip samples were collected in the Carrao area some of which returned over 500ppm copper (see Figure 2). Recent modelling and re-interpretation of the geochemical data collected from these rock samples together with Short-wave Infrared (SWIR) satellite imagery have highlighted an area of porphyry core-indicator (K-Alunite, Natroalunite, etc.) and porphyry core-specific (Topaz, Pyrophyllite, Zunyite) minerals. These minerals suggest an underlying porphyry copper-gold body. The results were used to define an area for a recently completed soil sampling program. Multi-element classification of soil sample results have corroborated the rock-chip geochemical work and further confirmed the targeting model.
The geochemical model, together with the airborne geophysical data suggests that the center of the Carrao area is the upper core of an underlying porphyry copper-gold system, which shows classic zonation and extensive lithocap formation. The geochemical and geophysical anomalies indicate that any potentially economic mineralization would be located at a depth in excess of 200 meters below surface.
The exploration team has positioned two scout drill holes to test the underlying porphyry target and has commenced the application process for drilling permissions.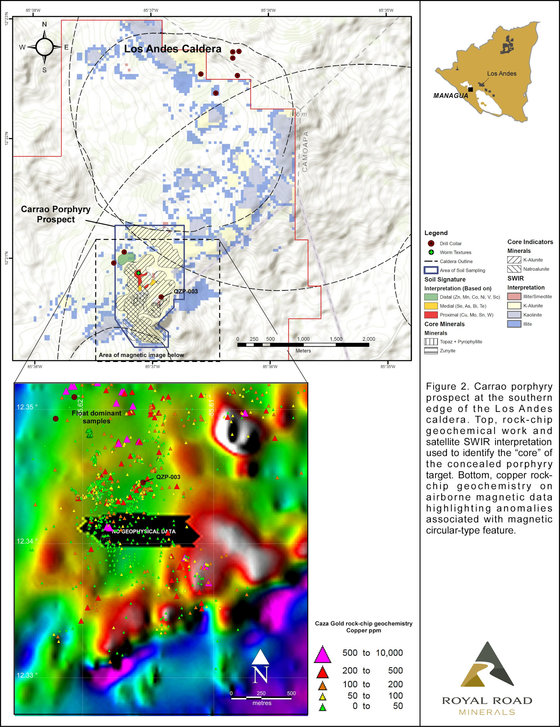 Figure 2
To view an enhanced version of this graphic, please visit:
https://orders.newsfilecorp.com/files/4008/35508_royalroad2enhanced.jpg
"By virtue of our Strategic Alliance with Mineros Nicaragua we are the largest exploration license holder in that country," said Dr Tim Coughlin, Royal Road's President and CEO. "Our alliance aims to identify and responsibly develop multiple copper and gold projects with at-least plus two million ounce gold or gold-equivalent potential. We view the Caribe and Los Andes projects as excellent proof of concept and great examples of rigorous exploration technique."
Neither the TSX Venture Exchange nor its Regulation Services Provider (as that term is defined in the policies of the TSX Venture Exchange) accepts responsibility for the adequacy or accuracy of this release.
The information in this news release was compiled, reviewed and verified by Dr. Tim Coughlin, BSc (Geology), MSc (Exploration and Mining), PhD (Structural Geology), FAusIMM, President and CEO of Royal Road Minerals Ltd and a qualified person as defined by National Instrument 43-101. Royal Road Minerals employees are instructed to follow standard operating and quality assurance procedures intended to ensure that all sampling techniques and sample results meet international reporting standards. More information can be found on Royal Road Minerals web site atwww.royalroadminerals.com.Samples areprepared in Bureau Veritas laboratories Nicaragua and sent to Bureau Veritas Mineral Laboratories Canada for analysis. Gold is analyzed by fire assay fusion with an AAS finish and base metals by 4-acid digest ICP-MS.
Cautionary statement:
This news release contains certain statements that constitute forward-looking informationand forward-looking statements within the meaning of applicable securities laws(collectively, "forward-looking statements") including e statements relating to theAllianceandthose describingthe Company's future plans and the expectations of its management that a stated result or condition will occur. Such forward-lookingstatements involve known and unknown risks, uncertainties and other factors that maycause the actual results, performance or achievements ofthe Company, ordevelopments inthe Company's business or in themineral resources industry, or with respect totheAlliance, to differ materially from the anticipated results, performance,achievements or developments expressed or implied by such forward-looking statements.Forward-looking statements include all disclosure regarding possible events, conditions orresults of operations that is based on assumptions about, among other things, futureeconomic conditions and courses of action, and assumptions related to governmentapprovals, and anticipated costs and expenditures.The words "plans", "prospective", "expect", "intend", "intends to" and similar expressions identify forward looking statements, whichmay also include, without limitation, anystatement relating to future events, conditions or circumstances. Forward-looking statementsof the Company contained in this news release, which may prove to be incorrect, include, but are not limited to,those related to the Alliance, Hemco, andtheCompany's plans exploration plans.
The Company cautions you not to place undue reliance upon any such forward-looking statements, whichspeak only as of the date they are made. There is no guarantee that the anticipated benefits of the Allianceand the Company'sbusiness plans or operationswill be achieved. The risks and uncertainties that may affectforward-looking statements include, among others: economic market conditions, anticipatedcosts and expenditures, government approvals, and otherrisks detailed from time to time inthe Company's filings with Canadian provincialsecurities regulators or other applicable regulatory authorities. Forward-looking statements included herein are basedonthecurrent plans, estimates, projections, beliefs andopinions of the Companymanagement and, in part,oninformation provided to the Company by Hemco, and, except as required by law,the Company does not undertake anyobligation to update forward-looking statements should assumptions related to these plans,estimates, projections, beliefs and opinions change.
For further information please contact:
Dr. Timothy Coughlin
President and Chief Executive Officer
USA-Canada toll free 1800 6389205
+44 (0)1534 887166
+44 (0)7797 742800
info@royalroadminerals.com
News Provided by Newsfile Corp.
The news, reports, views and opinions of authors (or source) expressed are their own and do not necessarily represent the views of CRWE World.