SHAWN N. ANDERSON, United States Attorney for the Districts of Guam and the Northern Mariana Islands (NMI), announced that he and Assistant U.S. Attorney Belinda Alcantara, Elder Justice Coordinator, were guest speakers at the "2018 Enhancing Judicial Skills in Elder Abuse Cases Workshop," organized by Guam Supreme Court Justice F. Philip Carbullido, Chairperson of the Pacific Judicial Council Education Committee.  U.S. Attorney Anderson and AUSA Alcantara spoke about the DOJ Elder Justice Program, elder abuse, neglect, and financial exploitation, and resources available on the DOJ webpage elderjustice.gov.  The workshop, held at the Hilton Guam Resort & Spa on June 4-6, 2018, was attended by judges from Guam, our neighboring islands of Saipan, Rota, Tinian, Pohnpei, Chuuk, American Samoa, and Palau, law enforcement and community stakeholders.  Presenters at the workshop also included speakers from the National Judicial Institute on Domestic Violence, which included judges and speakers from North Carolina, Washington, the District of Columbia, Minnesota, and Nevada.
          The Elder Justice Program stems from the DOJ Elder Justice Initiative (EJI) to prevent and combat financial fraud and scams that target seniors, elder abuse, and neglect.  The mission of the EJI is to strengthen awareness about elder abuse and financial exploitation through education, build law enforcement capacity to respond to elder justice issues, and facilitate prosecution efforts to make our community safer for all.
Some examples of the elder financial exploitation prosecuted by DOJ:
•  "Lottery phone scams," in which callers convince seniors that a large fee or taxes be paid before one can receive lottery winnings;
•  "IRS imposter schemes," which defraud victims by posing as IRS agents and claiming those victims owe back taxes;
•  "Inheritance or business opportunity scams," which lure victims to believe that a business opportunity or inheritance awaits them, deceiving them to part with monies or carry an innocuous "gift or package" on an airline which turns out to be contraband;        
•  "Tech support scams" in which telemarketers convince seniors to give remote access to their personal computers or pay for software not needed;
•  "Guardianship schemes," which siphon seniors' financial resources into the bank accounts of deceitful relatives or guardians.
          Many of these cases illustrate how an elderly American can lose his or her life savings to a relative, guardian, or stranger who gains the victim's trust.  The devastating effects these cases have on victims and their families, both financially and psychologically, make prosecuting elder fraud a key Department of Justice priority.
          The U.S. Attorney's Office in Guam and the NMI will be conducting outreach to various senior citizens centers in Guam and the NMI.   Anyone interested in learning more about the program can log on to https://www.justice.gov/elderjustice.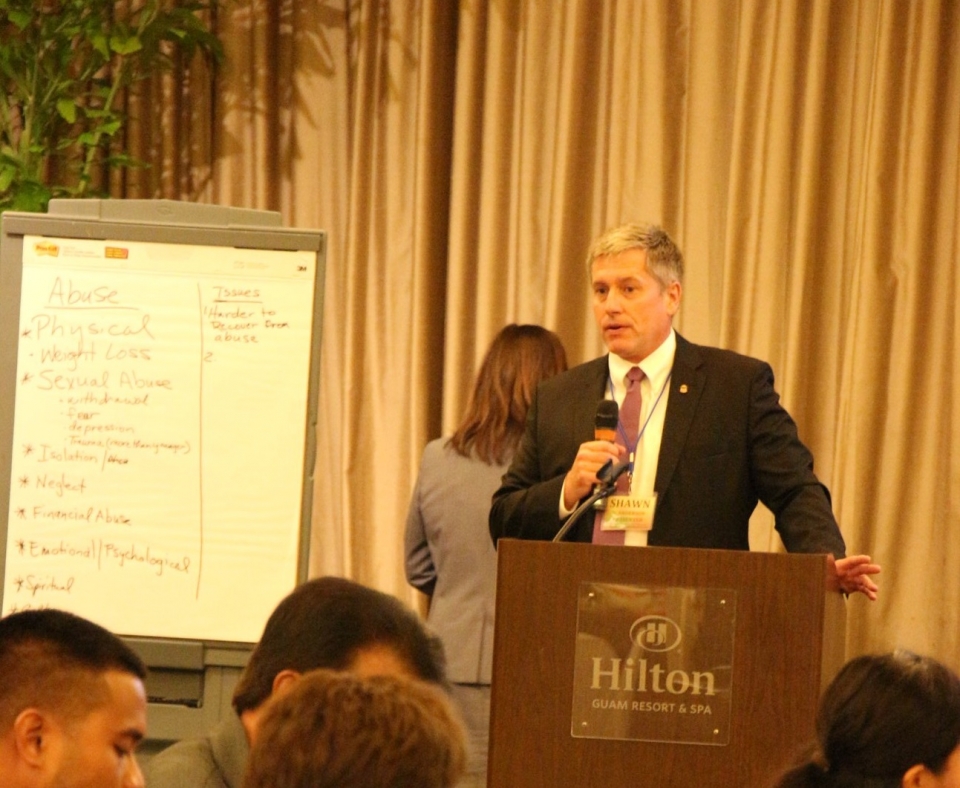 USA Shawn N. Anderson at Pacific Judicial Council Workshop
USA Anderson and AUSA Belinda Alcantara sharing on DOJ's Elder Justice Program Initiative
Department of Justice
Office of the U.S. Attorney
Districts of Guam & the Northern Mariana Islands
Source: Justice.gov
The news, reports, views and opinions of authors (or source) expressed are their own and do not necessarily represent the views of CRWE World.