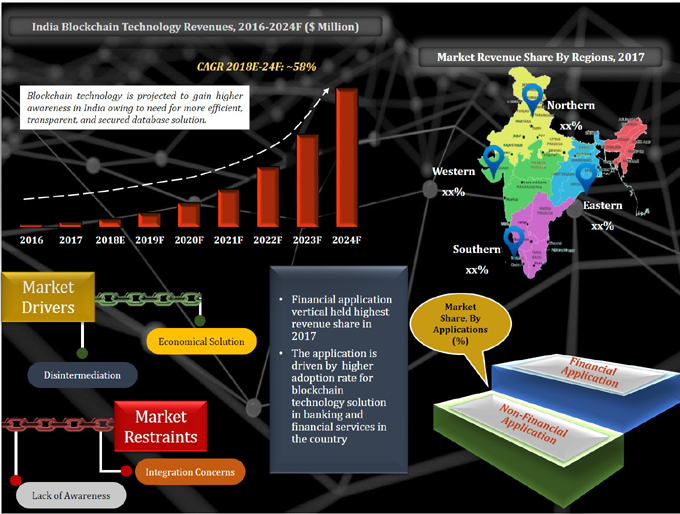 Increasing Digital Payment Solutions in India Would Drive the Growth of Blockchain Technology Across Several Applications by 2024 - 6Wresearch
Blockchain technology, popularly known as a protocol for value exchange is registering rising adoption among several applications including banking and financial services, transportation, supply chain as well as government verticals in India. The solution is gaining awareness owing to more efficient, transparent, and secured database solutions. Further, recent pilot project initiatives in Andhra Pradesh would result in greater adoption of blockchain solution in certain key states including Delhi, Madhya Pradesh, Uttar Pradesh and Punjab over the coming years.
According to 6Wresearch, India blockchain technology market is projected to grow at a CAGR of 58% during 2018-24. The market would be highly dependent on increasing growth of digital payment solution through several intermediaries including digital wallets and Unified Payment Interface (UPI); digital payment solution market is projected to grow around 10 times and cross $500 billion by 2020 as compared to around $50 billion in 2017. This would give the desired push for the integration of blockchain technology for much secured transactions.
Explore Press Release : http://www.6wresearch.com/press-releases/india-blockchain-technology-market-share-forecasts-size-growth-opportunity-shipments-cagr-players-trends-news-company-profile.html
According to Babu Munagala, Founder and CEO, Zebi Data India Pvt. Ltd., "Blockchain technology is bound to register substantial growth over the coming years. Currently, consumer awareness for this particular technology is at a very niche stage. However, with surging growth of blockchain integration in several verticals, majorly driven by government and enterprise segment, the market is projected to register considerable growth over the next 2 to 3 years."
According to Prijo Samuel, Assistant Research Manager, Research and Consulting, 6Wresearch, "In 2017, public blockchain segment registered maximum revenue share owing to greater need for blockchain solution integration among available public networks in the country."
"In terms of regions, the Western region recorded highest revenue share in India due to surging consumer adoption for blockchain technology solution pertaining to BFSI, transportation and logistics, and several other verticals."
According to Anuj Mehrotra, Senior Research Analyst, Research and Consulting, 6Wresearch, "Recent fraud in Punjab National Bank (PNB) of more than $1.7 billion, devastated the faith of security in public entities among Indian consumers. Banking sector has already initiated plans to evaluate the adoption of blockchain solution in the present banking ecosystem to avoid fraudulent activities and scams. For instance, in Feb 2018, State Bank of India (SBI) initiated its exploration in the adoption of blockchain technology. Additionally, the financial application vertical is anticipated to record higher growth rate and cross 58% revenue share by 2024."
Some of the key players in India blockchain technology market include- Zebi, Primechain, Krypc, Accubits and IBM, and Ernst & Young.
"India Blockchain Technology Market (2018-2024)" report provides in-depth analysis with 38 figures and 3 tables covered in more than 80 pages. The report thoroughly covers the blockchain technology market by applications, technology, end users, and regions. The report also offer an unbiased and detailed analysis of the on-going trends, opportunities, high growth areas and market drivers which would help the stakeholders to device and align their market strategies according to the current and future market dynamics.
For Sample Pages & Detailed Report Description Visit : http://www.6wresearch.com/market-reports/india-blockchain-technology-market-2018-2024-forecast-by-technology-type-applications-end-user-regions-competitive-landscape-iot.html
About 6Wresearch
6Wresearch is the premier, one stop market intelligence and advisory center, known for its best in class business research and consulting activity. We provide industry research reports and consulting service across different industries and geographies which provide industry players an in-depth coverage and help them in decision making before investing or enter into a particular geography.
For Further details, please contact:
Email Us: sales@6wresearch.com
Call Now: +91-11-430-24-305
The news, reports, views and opinions of authors (or source) expressed are their own and do not necessarily represent the views of CRWE World.