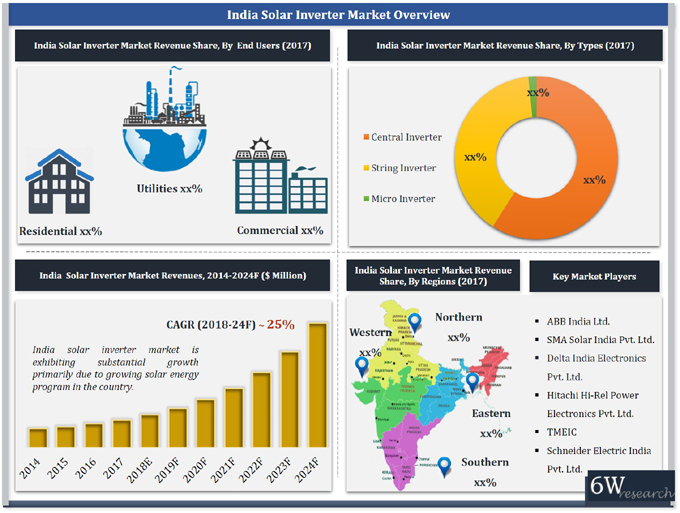 Government's Target to Attain 100 GW Solar Energy by 2022 is Driving the Growth of Solar Inverter Market in India - 6Wresearch
Power sector in India is witnessing a radical change on account of government's move towards power generation via renewable energy resources. Increasing electricity consumption and surging awareness towards environment are together helping the country towards utilization of green energy resources, especially solar. Moreover, solar inverter market is exhibiting immense growth over the past few years owing to surging implementation of solar energy projects in the country. Additionally, National Solar Mission, aiming to achieve 100 GW of solar energy by 2022 has further fueled the solar inverter adoption and is anticipated to increase the market in proportion with uprising solar industry in India.
According to 6Wresearch, India Solar Inverter market is projected to grow at a CAGR of over 25% during 2018-24. Among different types of solar inverters, central solar inverter bagged maximum revenue share in 2017 owing to its significant deployment across large scale utility solar projects in the country. However, during the forecast period, string solar inverters are anticipated to exhibit highest growth rate attributed to rising demand among residential and commercial solar installations for its smaller size and high power density.
Explore Press Release : http://www.6wresearch.com/press-releases/india-solar-inverter-market-share-forecasts-size-growth-opportunity-shipments-cagr-players-trends-news-company-profile.html
According to Anuj Mehrotra, Senior Research Analyst, Research and Consulting, 6Wresearch, "Currently, India Solar Inverter market is primarily driven by utility grade projects majorly ranging from 2 to 100 MW capacity and above. Further, commercial solar installations across educational institutes, airports, railways, corporate offices, and other commercial buildings are anticipated to exhibit highest growth during the forecast period."
"Increasing electricity prices, rising investment in smart cities, and increasing awareness among consumers have further led to the expansion of solar inverter market in the country," Anuj concluded.
According to Suman Gautam, Research Associate, Research and Consulting, 6Wresearch, "To meet the growing energy demand, India is witnessing rapid growth in solar installations. Residential consumers are significantly adapting to solar power systems owing to rising electricity prices. Also, surging solar roof top and off grid systems are further propelling the demand for solar inverters in the country."
"In addition, through subsidies and incentives, government is making remarkable efforts to utilize the solar power capacity in the country. Also, government's focus towards smart cities development is likely to contribute to solar energy adoption which would increase the demand for solar inverters in the country," Suman added.
Some of the major companies in India Solar Inverter market include- ABB India Ltd, SMA Solar India Pvt. Ltd, Delta India Electronics Pvt. Ltd, Chint Electric India Pvt. Ltd, Schneider Electric India Pvt. Ltd, Hitachi Hi-Rel Power Electronics Pvt. Ltd, and Toshiba Mitsubishi-Electric Industrial Systems Corporation.
"India Solar Inverter Market (2018-2024)" provides in-depth analysis with 40 figures and 12 tables covered in 110+ pages. The report estimates and forecast the overall India Solar Inverter market by types, system type, end users, power rating, and regions. The report also offer insights on competitive landscape, companies benchmarking, company profiles, market drivers and restraints.
For Sample Pages & Detailed Report Description Visit : http://www.6wresearch.com/market-reports/india-solar-inverter-market-2018-2024-forecast-by-types-central-string-micro-system-types-off-on-grid-end-users-power-rating-regions-competitive-landscape.html
About 6Wresearch
6Wresearch is the premier, one stop market intelligence and advisory center, known for its best in class business research and consulting activity. We provide industry research reports and consulting service across different industries and geographies which provide industry players an in-depth coverage and help them in decision making before investing or enter into a particular geography.
For Further details, please contact:
Email Us: sales@6wresearch.com
Call Now: +91-11-430-24-305
The news, reports, views and opinions of authors (or source) expressed are their own and do not necessarily represent the views of CRWE World.