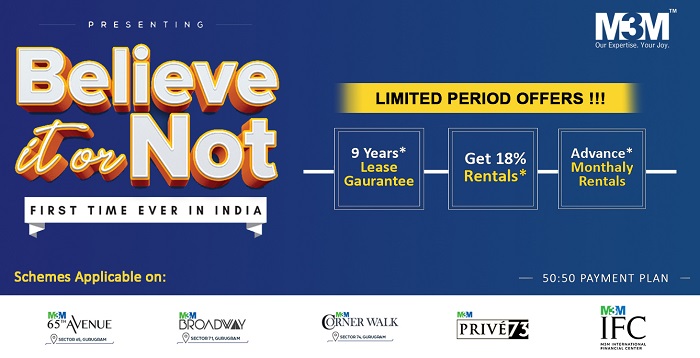 Among the real estate developers that have gained prominence in Gurgaon, M3M India is certainly one of the best. Focused mostly on building high-end luxury projects, this builder has earned an impressive reputation in the sector. M3M India is known to come up with exciting offers and exclusive deals quite often, which make them one of the preferred choices of property buyers in the NCR. One of their latest schemes, the M3M Believe It Or Not offer might be of interest to investors seeking commercial properties.
Lease Guarantee: Property investors availing the M3M Believe It Or Not Offer would enjoy a guaranteed lease deal of 9 years. The commercial projects by M3M India usually offer world-class features which attract leading brands from different sectors. This is why you may stay assured of being able to secure lease deals with reputable companies in the future too.

Assured returns: One of the main worries of the property investors is whether they would be able to earn profitable returns. Often, it takes them a while before they can actually enjoy good rental value. However, upon purchasing a property in one of the M3M Believe It or Not commercial projects in Gurgaon, you may enjoy 18% assured rentals.
Projects where you may avail this offer
This M3M commercial offer In Gurgaon is available on some of the best commercial projects by M3M India. The properties here are certainly worth investing in, which makes this a golden opportunity for real estate investors.
M3M Corner Walk: Located strategically in a corner location, this project offers grand retail spaces with high visibility. You may also purchase one of the state-of-the-art office spaces, which come with sophisticated infrastructure.

M3M 65th Avenue: This mixed-use development is set to be one of the major shopping and entertainment hubs in the city. Not only would the multiplex, food courts and other recreational amenities attract shoppers, but the catchment area is quite alluring too.

M3M Prive 73: This project stands out with its unique architecture and offers grand retail shops. It comes surrounded by high-end residential estates.
You may also avail the other on other projects like M3M Broadway, where you have to pay only 50% of the price in advance and the rest upon possession.
The Views and Opinions expressed in this article are the author's own and do not necessarily reflect those of this Web-Site or its agents, affiliates, officers, directors, staff, or contractors.