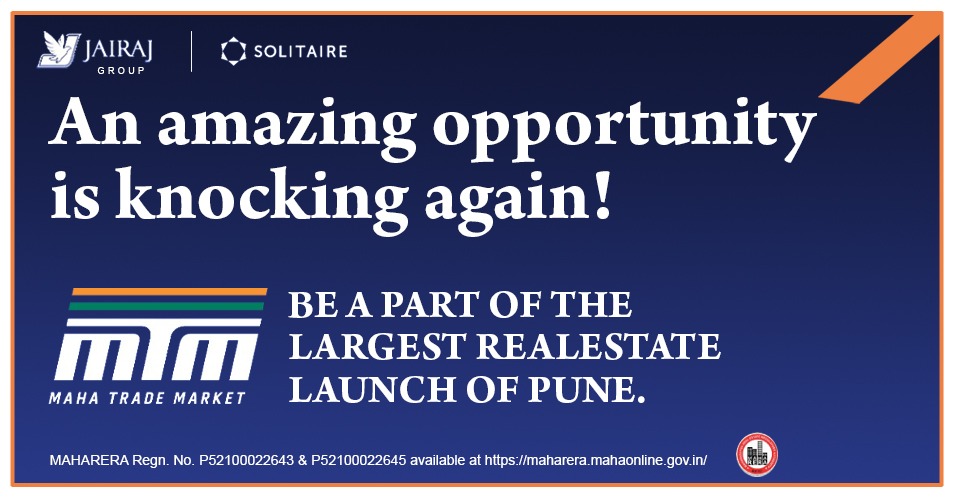 Maha Trade Market, presently the most extensive retail trading marketplace in Maharashtra, has been launched as a joint venture between Jairaj Group and Solitaire Group in Pune. This real estate development comes amidst a booming commercial property growth in the city. The developers have planned this project to offer sophisticated infrastructure and opportunities for traders to grow their business in the future. This Solitaire MTM project spans 22 acres and is presently the buzz for commercial property investors. Loaded with all the amenities necessary to grow your business, the commercial estate would be Pune's next landmark. Across the state, more than 300 channel partners attended the grand launch of Maha Trade Market Pune.
The tactical location of Maha Trade Market makes it a feasible investment avenue for commercial property investors. Bibwewadi is presently a dynamic trading hub in Pune. With the new project coming up centrally in this city, it will be seamlessly connected to Pune's rest. There are as many as five dedicated zones in this commercial project, encompassing 9 categories of merchandise. Once trade commences in full swing, Solitaire Bibwewadi will witness business involving homeware, food grains, accessories, apparel, construction equipment, jewelry, electronics, and healthcare products. This commercial zone is likely to emerge as one of the prime trading zones, where customers can avail all types of merchandise.
On average, the project will get an approximate daily footfall would be 70,000. Besides, the developers of Maha Trade Market Bibwewadi have integrated this project with a spacious parking zone, capable of accommodating as many as 6000 vehicles. The developers have also considered the post-pandemic aspects while integrating the features, particularly safety and social distancing. There are 25 entry and exit points in this commercial estate, each of which has sanitizing booths. Other safety features include sprinklers, fire sensors, and extinguishers in all the sections in this project.
Maha Trade Market Pune has also been integrated with the latest technologies. Eventually, the electrical load would be optimized so that the maintenance and energy bills remain low. In a nutshell, this commercial project presents a unique blend of amenities and features like financial services, exhibition halls, medical services, and integrated business ecosystems.
As Pune continues to attract residents, this project would witness an extensive footfall from the surrounding areas. Moreover, almost every requirement would be available in the project. This makes this project worth investing in.
The Views and Opinions expressed in this article are the author's own and do not necessarily reflect those of this Web-Site or its agents, affiliates, officers, directors, staff, or contractors.