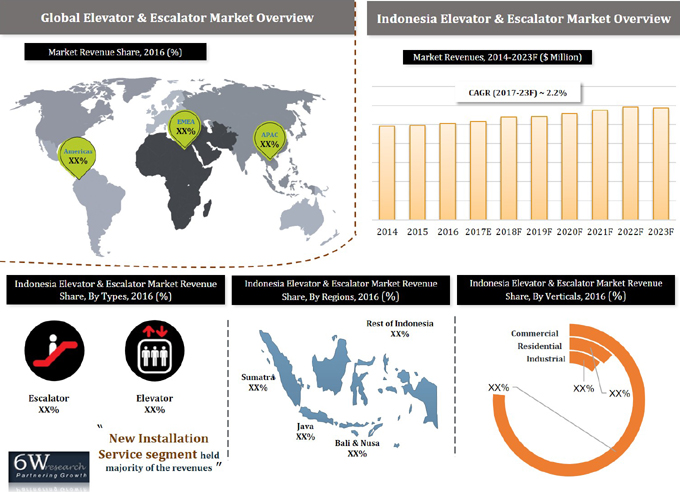 Java and Sumatra are the Key Regions Driving the Growth of Indonesia's Elevator and Escalator Market - 6Wresearch
Indonesia elevator and escalator market registered sluggish growth in terms of number of new installations attributed to change in government policies pertaining to election in the country and slowdown in construction industry. However, upcoming new hotels and shopping malls coupled with increasing government spending on infrastructural development projects and inflow of FDI in the construction market (infrastructure, energy, and residential projects) are some of the key factors that would revive growth of the market during 2018-24.
According to 6Wresearch, Indonesia Elevator and Escalator Market is expected to grow at a CAGR of 2.2% during 2017-23. Increase in the construction of skyscrapers and acceptance in the residential vertical to drive the demand for elevator especially in Indonesia. Currently, there are more than 300 active large-scale construction projects in Indonesia leading to surge in demand for elevators and escalators in the country. Declining import taxes and free trade agreements with several Southeast Asian countries propelled price reduction of various elevator and escalator system components.
Browse Press Release : http://www.6wresearch.com/press-releases/indonesia-elevator-and-escalator-market-share-forecasts-size-growth-opportunity-shipments-cagr-players-trends-news.html
According to Prijo Samuel, Assistant Research Manager, Research and Consulting, 6Wresearch, Indonesia market is anticipated to register healthy growth on the back of improving economic conditions, implementation of housing projects and programs, expanding middle class population, and rising infrastructure development projects in the country. Growing government investment on expansion of public infrastructure in the country would lead to surge in demand for elevators and escalators over the next three years.
"Moreover, increasing number of foreign tourists buoyed the construction of new hotels across the region, especially in Jakarta, resulting in an upsurge in deployment of elevators. On the contrary, due to elections in 2019, Indonesia elevator and escalator market is expected to display a slowdown in growth owing to declining government spending pertaining to infrastructural development and several construction projects," Samuel further added.
According to Shefali Goel, Senior Research Analyst, Research and Consulting, 6Wresearch, "Commercial vertical which includes transportation and retail segments, accounted for major share in the overall market. Indonesia is registering significant infrastructural development activities in the commercial sector.
Additionally, increasing construction activities in residential vertical, would further stimulate the growth of market during the forecast period.," Shefali concluded.
Some of the key players in Indonesia elevator and escalator market include- Hyundai Elevator, Hitachi, Kone Corporation, Mitsubishi Electric, Otis Elevator, Schindler, and ThyssenKrupp.
"Indonesia Elevator and escalator Market (2017-2023)" provides in-depth analysis with 45 figures and 13 tables covered in more than 100 pages. The report estimates and forecast the overall Indonesia elevator and escalator market by revenues, type, regions, services and verticals such as residential, commercial, and industrial. The report also offer insights on competitive landscape, market share by companies, companies benchmarking, company profiles, market drivers and restraints.
For Sample Pages & Detailed Report Description Visit : http://www.6wresearch.com/market-reports/indonesia-elevator-and-escalator-market-2017-2023-market-forecast-by-segments-services-verticals-residential-commercial-industrial-regions-competitive-landscape.html
About 6Wresearch
6Wresearch is the premier, one stop market intelligence and advisory center, known for its best in class business research and consulting activity. We provide industry research reports and consulting service across different industries and geographies which provide industry players an in-depth coverage and help them in decision making before investing or enter into a particular geography.
For Further details, please contact:
Email Us: sales@6wresearch.com
Call Now: +91-11-430-24-305
The news, reports, views and opinions of authors (or source) expressed are their own and do not necessarily represent the views of CRWE World.