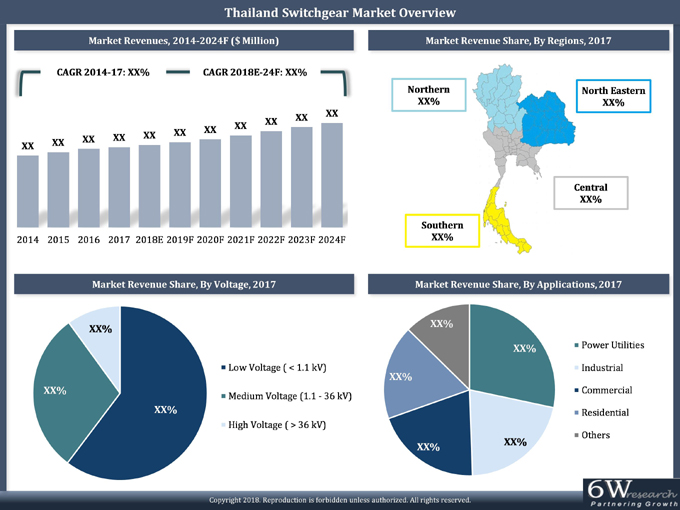 Expanding Power Generation Capacity, Rising Infrastructure Development Along with Government Initiatives towards Industrial Growth Would Fuel Thailand Switchgear Market During the 2018-24 - 6Wresearch
Government initiatives such as Power Development Plan and Alternative Energy Development Plan aims to increase Thailand's power generation and transmission capacity in order to cope up with growing energy demand. With development of Power transmission and distribution network, demand for switchgear would also surge over the next six years. Additionally, the Eastern Economic Corridor is also expected to promote the domestic manufacturing in automotive, electronics, petrochemical, agriculture and food verticals, resulting in the growth of electrical products such as switchgears over the coming years.
According to 6Wresearch, Thailand Switchgear Market Revenues are projected to grow at a CAGR of 4.0% during 2018-24. Thailand's government aims to reduce the dependency over natural gas-based fuel source by constructing new power plants based on alternative energy sources. According to Alternative Energy Development Plan, around 25% of the overall energy would be generated from alternative energy sources such as solar, wind and biomass by 2021. All such factors would drive the switchgear market in coming years. Additionally, development initiatives such as Thailand 4.0 intends to increase country's focus towards the innovation and technological up-gradation in the industrial sector. These initiatives would also attract large-scale investments and would result in the growth of infrastructure, which would spur switchgear market over the years to come.
Browse Press Release : http://www.6wresearch.com/press-releases/thailand-switchgear-market-share-forecasts-size-growth-opportunity-shipments-cagr-4-percent-players-trends-news.html
According to Ravi Bhandari, Assistant Manager, 6Wresearch, "Amongst all the applications, power utilities application accounted for the major revenue share in Thailand switchgear market in 2017 on account of expanding investment in power generation sector in the country."
"Other key consumers consist of industrial and commercial applications, whose market is expected to surge on account of ambitious government initiatives such as Alternative Energy Development Plan, Waste-to-Energy Project and development of Eastern Economic Corridor," Ravi further added.
According to Priya Sharma, Research Associate, Research and Consulting, 6Wresearch, "By Voltage Type, Low Voltage Switchgear captured the highest revenue share in 2017 with ACB, MCCB, C&R and MCB contributing the major revenue share in low voltage type. Moreover, low voltage switchgear market is anticipated to lead during the forecast period due to expanding residential, commercial and industrial sectors in the country.
"In medium and high voltage switchgear market, Air Insulated Switchgear (AIS) accounted for the major market revenue and volume share in 2017 followed by Gas Insulated Switchgear (GIS)," Priya further added.
Some of the major companies in Thailand Switchgear Market include- ABB, Siemens and Schneider.
"Thailand Switchgear Market (2018-2024)" provides in-depth analysis with 59 figures and 17 tables covered in more than 145 pages. The report estimates and forecast the overall Thailand switchgear market by voltage, insulation, types, and applications such as residential, industrial, commercial, power utilities & others as well as regions. The report also offer insights on competitive landscape, company profiles, market drivers and restraints.
For Sample Pages & Detailed Report Description Visit : http://www.6wresearch.com/market-reports/thailand-switchgear-market-2018-2024-forecast-by-low-medium-high-voltage-air-gas-insulation-mcb-mccb-cr-acb-cos-verticals-regions-competitive-landscape.html
For Further details, please contact:
Email Us: sales@6wresearch.com
Call Now: +91-11-430-24-305
The news, reports, views and opinions of authors (or source) expressed are their own and do not necessarily represent the views of CRWE World.