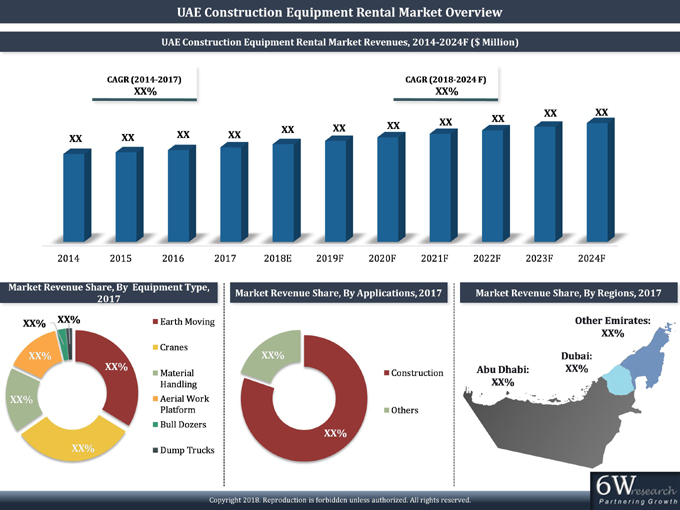 Expanding Construction Industry on Account of Upcoming Dubai Expo 2020 Coupled with Government Initiatives such as UAE Vision 2021 Would Surge the UAE Construction Equipment Rental Market By 2024
UAE construction equipment rental market registered substantial growth as a result of increasing construction activities as well as strengthening commercial, hospitality and residential sectors. Construction sector growth is attributed to increased infrastructure spending for World Expo 2020. Further, to avoid the cost of purchasing new equipment and to evade maintenance expenses, construction companies in UAE are opting for renting the equipment.
According to 6Wresearch, UAE Construction Equipment Rental Market revenues are projected to grow at a CAGR of 3.3% during 2018-24. Projects such as $37 billion Yas Island Development and $22 billion Masdar City which are expected to be completed by 2025 would increase the demand for construction equipment. Moreover, Dubai overall budget has been increased by nearly 20% for upcoming World Expo 2020 from $13.1 billion (AED 47.31 billion) in 2017 to $15.5 billion (AED 56.6 billion) in 2018. Out of this budget, around 21% was allocated to infrastructure development. With increasing infrastructure spending, the rental equipment market would also witness growth over the coming years.
Explore Press Release : http://www.6wresearch.com/press-releases/uae-construction-equipment-rental-market-share-forecasts-size-growth-opportunity-shipments-cagr-players-trends-news-company-profile.html
According to Ravi Bhandari, Assistant Manager, 6Wresearch, "Earth Moving equipment is the key revenue contributing segment in the UAE construction equipment rental market on account of their high utilization at construction sites"
"Other major equipment includes cranes and material handling equipment. The market for these equipment are expected to spur on account of infrastructure development in the country," Ravi further added.
According to Vikrant Tomar, Research Associate, Research and Consulting, 6Wresearch, "By regions, Dubai contributes highest revenue share in UAE construction equipment rental market and is projected to maintain its dominance during the forecast period on the back of massive investment in hospitality and transportation sectors under Dubai's tourism vision 2020.
"With leading players enlarging their fleets with new and innovative products, the market for construction equipment rental would grow over the next six years," Vikrant further added.
Some of the major companies in UAE Construction Equipment Rental Market include- Mohammed Abdulrahman Al- Bahar, Al Faris Equipment Rentals LLC, Al Mutawa, and Al Jaber Leasing Service LLC.
"UAE Construction Equipment Rental Market (2014-2024)" provides in-depth analysis with 81 figures and 59 tables covered in more than 190 pages. The report estimates and forecast the overall UAE Construction Equipment Rental market by revenues, equipment types, applications such as construction and others as well as regions. The report also offer insights on competitive landscape, company profiles, market drivers and restraints.
For Sample Pages & Detailed Report Description Visit : http://www.6wresearch.com/market-reports/uae-construction-equipment-rental-market-2018-2024-forecast-by-types-crane-bulldozer-earth-moving-loader-excavator-applications-competitive-landscape-regions.html
About 6Wresearch
6Wresearch is the premier, one stop market intelligence and advisory center, known for its best in class business research and consulting activity. We provide industry research reports and consulting service across different industries and geographies which provide industry players an in-depth coverage and help them in decision making before investing or enter into a particular geography.
For Further details, please contact:
Email Us: sales@6wresearch.com
Call Now: +91-11-430-24-305
The news, reports, views and opinions of authors (or source) expressed are their own and do not necessarily represent the views of CRWE World.