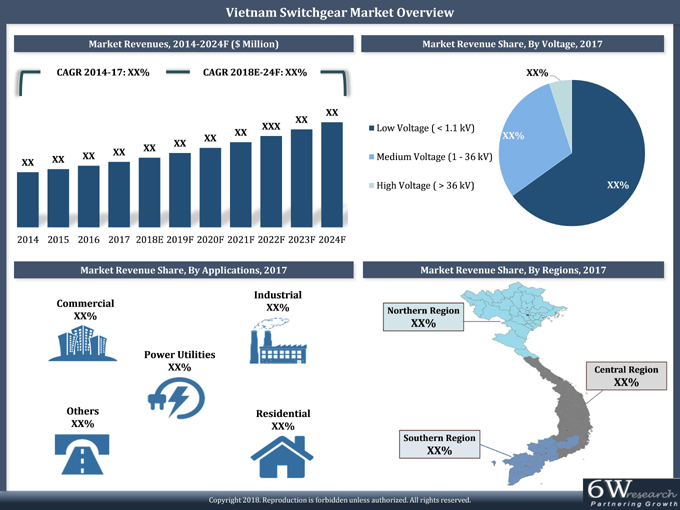 Burgeoning Power Sector and Rising Investment in Transportation Infrastructure would be the Key Drivers for the Growth of Vietnam Switchgear Market - 6Wresearch
Government efforts to develop power related infrastructure to ensure 100% electrification rate in rural region of Vietnam under the National Power Development Plan VII (2011-2020) along with the strengthening of urban infrastructure including housing and transportation would increase the demand for the switchgears in the country.
According to 6Wresearch, Vietnam Switchgear market revenues are projected to grow at a CAGR of 7.1% during 2018-24. According to the Department for Economic Zones Management (DEZM), industrial parks and special economic zones in Vietnam attracted more than 850 domestic and foreign investment projects worth $12.4 billion in 2017. Stable economic growth and rising inflow of foreign direct investment in industrial sector would be some of the key factors on account of which the switchgear market of the country would register a healthy growth during 2018-24.
Browse Press Release : http://www.6wresearch.com/press-releases/vietnam-switchgear-market-share-forecasts-size-growth-opportunity-shipments-cagr-players-trends-news.html
According to Ravi Bhandari, Assistant Manager, 6Wresearch, "The residential sector of Vietnam experienced robust growth in past years due to shift in trend towards luxury and mid ranged housing units. Further, the government of Vietnam is also supporting the development of green buildings in Ho Chi Minh and Hanoi regions. The demand for medium and high voltage switchgears is also expected to increase on account of significant growth in the transmission grid network across the country."
"According to Vietnam Electricity (EVN), the total installed power generation capacity of Vietnam would reach around 64 GW by 2020, thus resulting in construction of several new power plant projects in the next few years which would aid the demand for switchgears in the power sector of the country." Ravi further added.
According to Akash Jain, Research Analyst, 6Wresearch, "demand for low and medium voltage switchgears is expected to remain strong due to growing construction activities in residential and commercial segments. The government is looking to develop social infrastructure across Vietnam to attract investment in retail and commercial sectors of the country, especially outside metropolitan cities such as HCM city and Hanoi.
"The $450 billion Economic Restructuring Plan 2016-2020 would focus on the construction of transportation infrastructure, affordable housing and industrial construction in Vietnam," Akash concluded.
Some of the key players in Vietnam Switchgear market include- Schneider Electric, Siemens, ABB, Fuji Electric and Mitsubishi Electric.
"Vietnam Switchgear Market (2018-2024)" provides in-depth analysis with 67 figures and 28 tables covered in 155 pages. The report estimates and forecast the overall Vietnam switchgear market by voltage, types, insulation, applications and regions. The report provides an unbiased and detailed analysis of the on-going trends, opportunities/high growth areas and market drivers which would help the stakeholders to device and align their market strategies according to the current and future market dynamics.
For Sample Pages & Detailed Report Description Visit : http://www.6wresearch.com/market-reports/vietnam-switchgear-market-2018-2024-forecast-by-voltage-low-medium-high-insulation-ais-gis-mcb-mccb-cr-acb-cos-verticals-regions-competitive-landscape.html
For Further details, please contact:
Email Us: sales@6wresearch.com
Call Now: +91-11-430-24-305
The Views and Opinions expressed in this article are the author's own and do not necessarily reflect those of this Web-Site or its agents, affiliates, officers, directors, staff, or contractors.